Watching the qualifying rounds of
Masterchef Ireland
on RTE2 last Thursday one of the contestants cooked a coffee-rubbed fillet of pork. Dyla McGrath was very hesitant about the flavour combination but his blending of the coffee beans with cumi, mustard and coriander seeds changed the flavour enough to put him through to the next round.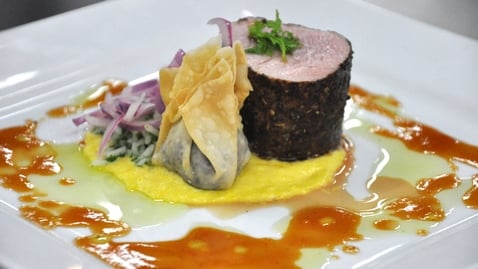 (see recipe here:
http://www.rte.ie/lifestyle/food/masterchef/recipes/2012/1015/3355-coffee-rubbed-fillet-of-pork/
)
This got me thinking of other flavours that go well with coffee. Niki Segnit's excellent book
The Flavour Thesaurus
lists coffee as a roasted flavour along with chocolate and peanut. She lists 19 flavour combinations, only one of which is a meat-beef. She states how in the American South coffee is used as a marinade or rub for beef but that in her experience it had an "overwhelmingly gamy flavour".
The other pairings are almond, avocado, banana, blackcurrant, cardamon, cherry, chocolate, cinnamon, clove, coriander seed, ginger, goat's cheese, hazelnut, orange, rose, vanilla, walnut and white chocolate. Phew!
The almond tones in coffee mean it is a perfect accompaniment of almond croissant. The avocado inclusion refers us its use as a fruit in some far eastern countries with coffee syrup and avocado blended in a sweet shake with condensed milk (sounds yuchy!) The banana combi comes into play in the coffee-flavoured cream on banoffi pie (news to me-always thought it was plain cream, but can now see how the bitter sets off the aching sweetness.)
Blackcurrant and coffee are often paired in wine tasting notes but the idea of coffee ice cream in
vacherin glace
(layered with meringue, blackcurrant sorbet and whipped cream) is beyond sublime. Bedouin coffee is made with equal parts cardamon to coffee and Segnit suggests flavouring a sponge with cardamon and topping with coffee icing. Cherry makes its presence in the pairing of the diner special 'coffee with cherry pie'. We are all used to seeing cocoa sprinkled on cappucino but I prefer my coffee black. So Segnit advocates using coffee as a way to boost the chocolate flavour (and vice versa) in cakes and mousse.
Well, coffee and cinnamon need little explanation- think cinnamon doughnuts,but cinnamon can be added to coffee sponge to round the flavour and apparently coffeee in Mexico is served with a cinamon stick to stir- cute! Meanwhile, in Ethiopia coffee is prepared with the inclusion of ground cloves, in Morrocco coriander seeds flavour their espresso style coffee and in Yemen a drink called 'qishr' is made of brewed coffee husks and ginger. The goat cheese pairing refers to a Norwegin cheese called 'ekte gjetost' made with the whey, cooked until it caramelises. This sweet cheese is eaten on toast with morning coffee (?!)
So we come to two easy pairings- coffee and hazelnut, apparently a good icecream two-scoop choice, and coffee and orange. Segnit advocates an orange and coffee marmalade but I'm not so sure but orange and coffee tiramisu I am sold on, especially when made with an orange and coffee bean liquer. The inclusion of rose on the list might surprise you but not when you think of strong black Turkish coffee paired with sweet rose Turkish Delight. Coffee and vanilla excells itself in my favourite dessert- affogato; simply get a bowl of best quality vanilla icecream and tip your espresso over it- bliss!
The final two forays into coffee compliments are first the ole fave coffee n walnut. Who hasn't enjoyed a slice of old fashioned coffee cake topped with walnuts but whatever happened to my old favourite sweet- the coffee flavoured walnut whip? I'm not keenon white chocolate- it's jus too sweet, but coffee's bitterness might just be its saving grace. Segnit's suggestion is Cafe Tasse's Blanc cafe bar which contains ground coffee beans giving a bitter contrast to the sweet white chocolate.
So, now you can pop off and brew up a good cup of coffee and drool over all the nice things that could be accompanying it. Enjoy!