Looking for a comfortable spot for morning coffee away from the madness of the street? You wouldn't go far wrong by calling in to Ely on Ely Place where for the last couple of months they have started a morning service between 10am and 12 noon. Served in the main ground floor dining room, beautifully furnished and with attractive black and white framed photography on the walls, you can choose between several fresh baked goods all on a lovely cake stand.
We settled down to one coffee, beautifully strong and one hot chocolate We accompanied it with fruit scones, crumbly and fresh served on lovely slate platters with mini French-style-jars of jam.
The atmosphere is refined and relaxed and it is a lovely location for a quick morning business meeting.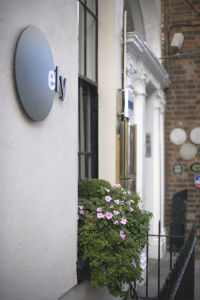 Opening in 1999, it was the first place in Dublin where people could enjoy a glass of wine with something to eat, which only goes to show how Dublin has changed. Whilst we were there we glanced through the lovely Ely Cookbook on show, packed with beautiful photography and delicious looking recipes and watched as the delicious looking French loaves arrived for lunch later on. Reluctantly dragging ourselves out of our chairs we headed off to face the rain.
Ely Wine Bar,
22 Ely Place, Dublin 2
676-8986
www.elywinebar.ie