Following on from the 'First Quarter Round-Up' article, this one covers April to June; events and books that look interesting from the publishers news.
April 16th
sees the publication of
Granta
123: The Best of Young British Novelists 4. The publication follows the previous nights once-in-a-decade announcement of the selection of the twenty best novelists under forty. Always an interesting prediction, to look forward and over past prediction to see if the rising young stars made it in the literary world. Previous inclusions have been names such as Salman Rushdie, Martin Amis, Pat Barker, Julian Barnes and Jeanette Winterson.
Best of Young British Novelists 2003.
http://www.granta.com/Archive/81
Later this week, (
April 19th
) the film
Wadjda
is to be released. With the claim of being the first full length film to be shot entirely in Saudi Arabia it is directed and written by Haifaa al-Mansour. This got me looking into the cinema of Saudi Arabia as
Keif Al-Hal?
billed as its first film was actually shot in United Arab Emirates. Whilst cinemas were numerous in the 1970s the 1980s Isalmic revival movement saw all cinemas, movie halls and theatres closed down by the government. King Abdullah's reforms in 2005 saw some cinemas re-open. Mansour has spoken of restrictions on women and girls that made filming difficult and meant that some exterior scenes were directed via walkie-talkie from inside a van as it would be unacceptable in some conservative areas for her to be on the street.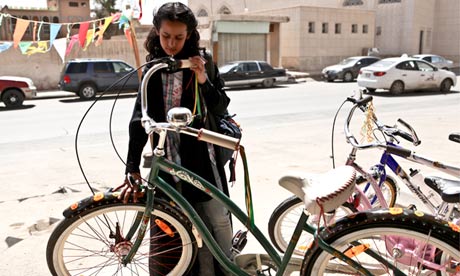 Wadjda
April
book releases of note include
Ghana Must Go
by Taiye Selasi,
Americanah
by Chimamanda Ngozi Adichie and
The Round House
by Louise Erdrich.
Ghana Must Go
is the story of the family Sais which covers generations and continents. Adichie's writing is always accomplished.
Americanah
is a love story set in Lagos which transfers to post 9/11 America. Louise Erdrich's
The Round House
is set in the late 80's as a young teen finds his mother the victim of an attack on their reservation in North Dakota.
For anyone who studied Kierkegaard in their misspent youth,
May 5th
celebrates the 200th anniversary of his birth (1813). A favourite quote for the historian inside me is "Life can only be understood backwards; but it must be lived forwards." So true.
In cinema, the long anticipated remake of
The Great Gatsby
by the talented filmaker Baz Luhrmann comes out on
May 17th.
With the classic Robert Redford/Mia Farrow combo so set in our minds it is a hard act to follow but whoever thought a sales pitch of
Moulin Rouge!
with Nicole Kidman, Ewan McGregor and Jim Broadbent singing Elton John inspired by Bollywood would be so good and be nominated for eight Oscars.
A new generation, a new Gatsby , and who better that the great Leonardo Dicapprio. Good luck guys.
Book publishing sees
A Delicate Truth
by John le Carré,
And the Mountains Echoed
by Khaled Hosseini, and after a gap of 34 years since his last novel,
All That Is
by James Salter.
A Delicate Truth
is set in Gibraltar where a counter-terror operation is being mounted. A conspiracy is suspected. Khaled Hosseini's new novel
And the Mountain's Echoed
opens in Afghanistan in 1952 and covers continents and generations. James Salter's last novel was
The Hunters,
now a modern classic.
All That Is
will be excitedly received, a story set in the years after World War II.
In non-fiction,
The Serpent's Promise; the Bible as Science
by Steve Jones, geneticist rewrites the Bible in the light of modern science - looks interesting.
June 4th
will be 100 years since the death of Emily Wilding Davidson. Emily is the suffragette who stepped out in front of a King George V's racehorse at the Epsom Derby - she died four days later from her injuries.
June 5th
is the day of the announcement of the winner of the Women's Prize for Fiction.
Last Friends
by
Jane Gardam is the final novel in the
Old Filth
trilogy, the comic story of a QC and his rival Terence Veneering. Neil Gaiman's
The Ocean at the End of the Lane
is a fable which begins with a suicide and the release of menace.
(July to year end to follow.)